W
here did December go??? 5 days and it will be all over and off to 2011 we go.
This week brings to a close the
Peace on Earth Challenges
that
Courtney
over a
Women Living Well
started. Please visit her to check them out if you missed this challenge.
This week challenge is going to be FUN for me. I will take this week to really reflect on how 2010 went and what I can do better and differently. My most important goals is to serve God better and bring more people to Him.
I will say that over the years I have been one to set goals for money, weight, debt, growing closer with God, my children, in my marriage however some where along the way I SIDE TRACKED, fell off my path that I had designed for ME.
Did you catch that? I fell off my path that I designed for me!
I fell off because I was the one in control NOT God. So my 2011 will insure be God at the wheel of my life and all the areas that I was to improve on to glorify HIM will work out the way God wants them instead of me. Walk with God, Marriage, Children, Health, Minstery
We set our on selves up for failure because WE can not deliver ourselves from this world, we can only accomplish what God wants us too through Him.
Find a minute this week to get alone…outside is best. There is something about the big open sky, the trees, and the sounds of nature that help us to see and hear God clearly.
Take your Bible with you – visit Matthew 27 and 28, evaluate 2010 and commit 2011 to living your life completely for God on His path, not your Own path.
Here's some evaluation questions to assist you in your time alone.
1. Evaluate Your Walk with God in 2010 – Were you daily in God's word and in prayer? How can you improve your walk with God in 2011?
Suggestion: Ponder your schedule and then write down a set time for a quiet time each day. Mine is 6:00am every morning. Consider starting or joining a Good Morning Girls group in the new year. (I am looking for ladies who want to be apart of My Good Morning Group. Just email if you are looking for a spot.)
2. Your Marriage – What is one word you'd use to describe your marriage in 2010? Easy, frustrating, growing, romantic, hard, strong, amazing. What is one thing you know your husband wishes you'd change in your life?
Suggestion: Write down the steps you can take to change that area in your life. ex. being more organized, cooking healthier, being more flexible, being more respectful, kissing him like you mean it more often…
3. Your Children –
What was a high point and a low point for each of your children in 2010? What is one thing that each of your children need from you in 2011?
Suggestion: Write down the steps you can take toward giving your children what they need. ex. manners training, reading to them more, one on one time, my undivided attention, memorizing God's word together…
4. Health –
What healthy habits did I maintain in 2010? What unhealthy habits did I create in 2010 that I need to change going into 2011?
Suggestion: Write down some goals for 2011 in this area. Write out a plan for how you will reach them. Most importantly dont beat yourself up when you fall off track. I will be starting Weight Watchers this year and I will have to say that I am in such a great place with God I know I will succeed this time.
5. Ministry – What ways did I use my talents for God in 2010? Pray about what God would have you do in 2011.
Suggestion: Surrender your life to God. Be willing to be used for his purposes – remember that each season of life brings different priorities and opportunities. Pray over this.
Pause and look over your evaluation. Now choose a theme word for the new year. Last year my word was SURRENDER, I truly wanted to learn to surrender to God in my marriage, with my children, with my health, with my talents. Even though I did fail at some I was still able to learn to surrender to God and truly give my WHOLE life to Him. I know 2011 will bring even more surrender.
I am praying for my "Theme Word" to see what the Lord says I need to work on this year.
I am truly excited for 2011, I dont think I have been SO excited to enter into a year however know that the Lord has equipped me this far and know that He will bring me even closer next year to where He wants me to be. Staying on His path will get me that much closer to Him.
May your week be a complete focus on HIM as you prepare for 2011. Listen for His plans for you and completely surrender ALL parts of your life to Him!
"For I know the plans I have for you," declares the LORD, "plans to prosper you and not to harm you, plans to give you hope and a future" Jeremiah 29:11

This will be my life verse for 2011!! Keeping my eyes on this verse will help me to stay on God's path and not vere onto my own!
Happy New Year friends!
I am blessed to see how the Lord will use this blog to glorify Himself!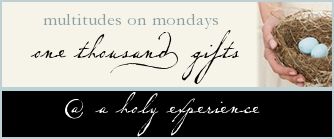 I am also participating with A Holy Experience, One Thousand Gifts. Stop by her blog and grab her button and link up with us! Writing down every single day what you are thankful for from God is so heart warming!
23. Spending time with family looking at Christmas lights
24. To just relax from all the everyday things that need done
25. Having family close
26. For the connection with Family
27. For knowing God's presence
Click here to download Ann free gratitude calendar
Serving With Joy,
Never miss a post! Get free right to your inbox!