How many of you reading this said I will always date my husbands after we get married, have kids?


I know I did!!


How many of us can say we kept are still doing dating our husbands after life has taken over?


Why is we get so "caught up" in life that we forget the MOST important relationship that God intrusted with, our husbands!


It is so easy to say we just dont have the time, or we are too tired. We can even go as far as to say that we dont have the money to do anything. What about I am not creative to think of what to do on a date.


I have been thinking about this because in our family there is 5 of us with one that has already moved out, so 4 in our home. Myself, hubby and 2 active boys 14 & 8. We are not that busy but we dont take time out to "date" anymore.  We are wrapped in our kids activities, jobs, THINGS, that we dont take the time to nourish our relationship.


So I am taking a stand to DATE MY HUSBAND once week for the rest of the year and wanted to see IF YOU ALL wanted to join in with me? 
The key to this challenge is to make the time to spend with your husband once a week away from kids, phones, internet, TV, anything that is a distraction to you making a date.


Your husband might be resistant at first if this is something that has not been done in a long time, however dont get frustrated, take it one week at a time and before your know it dating will be a part of your marriage just like all the activities that are important.


Here are some ideas for DATE NIGHT:
Do a marriage bible study

Talk a walk in the neighborhood

Go out for ice cream

Sit on the porch and talk

Take a nice drive

Make a quite dinner for the two of you with all the fixings

(candles, nice table cloth, best dishes, romantic music)

Picnic out at a park/beach
Would love for everyone to POST in the comments some other great ideas we can do for Date Night. I know there are some great ideas to be added to this list.


The purpose of this challenge is to be INTENTIONAL in our marriages. Making time to date our husbands is showing our kids that a marriage is a very important relationship and needs to be care for, deeply.


If you are a woman that has children with no family around to help in sitting for you I would encourage you do some of the above things after the kids are in bed. The backyard can be a getaway if we want it to be. Its the thought and time we are taking to invest in our marriages that we are trying to build. 
Pray over this challenge in your marriage that the Lord will give you ways to date your husband, that He will provide the open time to invest every week, that He draws you both closer in a way that was not there before, most of all that He show the children how important "a marriage" is in taking time out to reconnect.
To join in on this challenge with me just grab the button at the left by right clicking on it and saving it to your computer, add it to your post, and come link up on Mondays.


If you are a blogger write a post about how this challenge goes and link up below – remember to include a link back to this post please! 
If you are not a blogger, comment below and tell us how you are working on this area or what you learned!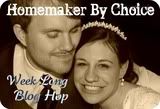 I am linking up with Homemaker by Choice in a week Blog Hop. Take a moment to head on over and meet some other amazing women bloggers sharing their hearts and God.
 0 entries so far… you're next!
---
You are next…
Click here to enter
This list will close in 118 days, 0 hrs, 59 min (1/1/2012 3:59 PM CST)
Serving Him With Joy,

For comments or questions, contact me at:
becomingawomanofGod[at]gmail.com
Find Becoming a Strong Woman of God on facebook: Click here

If you would like to have Becoming a Strong Woman of God delivered to your inbox daily, simply click here: Subscribe to Becoming a Strong Woman of God 
Never miss a post! Get free right to your inbox!